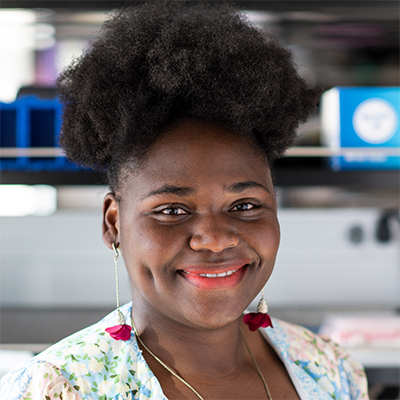 Catherine
Tcheandjieu, DVM, PhD
Assistant Professor of Epidemiology & Biostatistics
Tcheandjieu earned a doctorate of veterinary science from the National School of Veterinary Medicine of Algiers in Algeria, and a Master's degree in public health followed by a PhD in genetic epidemiology from the University of Paris-Saclay in France. She trained as a postdoctoral fellow at Stanford University, where she focused on the genetics of cardiovascular diseases. 
Her expertise includes epidemiology, genomics, and statistics, which she applies to complex disorders such as cancer and cardiovascular diseases. She specializes in mining large genomics and epidemiological datasets from diverse populations to discover genetic and environmental factors that predispose to disease and may differ between different ancestries. 
Tcheandjieu is a recipient of the Stanford Postdoc Justice, Equity, Diversity, and Inclusion (JEDI) Champion Award, the Stanford Jump Start Award, and the Million Veteran Program early career investigator award. Her was also the winner of the 2022 Bench to Bassinet Pediatric Cardiac Genomics Consortium (PCGC) and Cardiovascular Development Data Resource Center (CDDRC) Challenge Prize. She is a co-founder of BlackInCardio.
Research Overview
Computationally deriving cardiac phenotypes from imaging for a better understanding of cardiovascular diseases
Computational health science interests: